Create elevations and stairs with block steps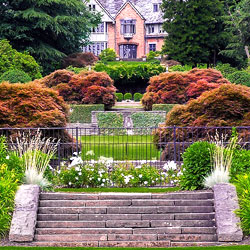 For a perfect garden design, only something really unusual is often an option. We're not talking about bizarre sculptures or the like, but about pretty paths, small steps, stairs and elevations. These can be created using block levels. As with road stones and curb stones, block steps are also available in different models. You can discover differences in the materials, the dimensions and the shapes.

Possible materials for block steps

Since there are different materials for block steps, the texture can also vary. You can choose whether you prefer steps with a smooth or a rough surface. You have the choice between hard and slightly softer material. You can use artificial stone but also natural stones for your garden design. Most of the steps are made of concrete, pebble wash concrete or granite. Even concrete steps can look like natural stones. It just always depends on the method of processing. Wash concrete is a somewhat coarser material. The surface is uneven and very natural. The steps consist of numerous pebbles, so to speak, in different shapes, colors and sizes. Granite, on the other hand, is a very even material that has a very stylish, even surface structure to offer. The garden design would be made more luxurious.

Preparing and laying block steps
The steps themselves can be bought ready-made. Most of the time, they don't even need to be adjusted. So here it is more important to prepare the garden for the new garden design. Depending on whether it is natural stones or artificial steps, the garden should be adapted to itself. The step stones are a great way to create small stairs to the front door. The natural stones and co can also be used as elevations for flowerpots and other decorations. It is important that a safe, solid surface is always created first. The ground can be provided with a foundation. If possible, you should also make sure that no roots can grow under the steps. Over time, these would cause the steps and elevations to wobble.