Porcelain stoneware tiles for every room
With porcelain stoneware tiles you bring a particularly high quality into your home. Porcelain stoneware tiles are particularly characterized by their high degree of hardness and high durability. They are fired at a very high temperature, which gives them their particularly high stability. Unglazed porcelain stoneware tiles are often found in industrial areas, while glazed porcelain stoneware tiles are more suitable for the decorative design of rooms. Due to their nature, these porcelain stoneware tiles are very moisture-resistant and therefore also very well suited for use and laying outdoors. For example, lay porcelain stoneware tiles on the terrace or balcony. A particularly non-slip surface also makes this type of tile ideal for laying on a wide variety of floors.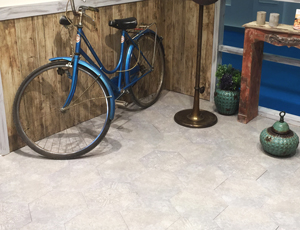 Design and decor of porcelain stoneware tiles
Porcelain stoneware tiles are commercially available in many different versions. A variety of colors and designs make these tiles ideal for all types of damp and sanitary rooms. Porcelain stoneware tiles can be laid on the floor and on the wall and are available in hardware stores and specialty shops in many different sizes. The selection of floor and wall tiles ranges from narrow tiles only around 10 cm to 15 cm wide to large floor tiles with a width of 60 cm or even 80 cm. And also in the designs there is an extremely colorful variety of porcelain stoneware tiles, which ranges from various shiny single-colored tiles in black, white, brown, gray or blue to unusual decors in wood look, metal look or natural stone look. With the correct care of the porcelain stoneware tiles, the durability of this product will also increase. Therefore, you should only use the care products intended for this type of tile to clean the tile surface.


Mosaic tiles, an eye-catcher made of porcelain stoneware
Whether floor tiles or wall tiles, among the different types of porcelain stoneware tiles there are also various mosaic tiles. These somewhat smaller porcelain stoneware tiles glued to mats are of the same high quality as the larger versions and also very decorative. They are also ideal for laying in sanitary and damp rooms and are also available in many different designs in the trade. Whether with a glossy surface, in metal look or in wood look, with this type of tile you get not only enormous durability and robust quality but also an optically extremely attractive product with which you can set visual accents in any room as you wish. For an attractive wall design, the use of glass mosaic tiles is also an option. These tiles have a particularly shiny surface and create a particularly elegant ambience in every room. On the side, the many bright colors offer many options for creative room design when using glass mosaic tiles.