Mosafil glass mosaic tiles
is suitable for indoor and outdoor areas such as bathrooms, toilets, kitchens, swimming pools or wellness areas. At Mosafil you will find patterns of glass mosaic for your own rooms. Due to the special material come in our glass mosaic brilliant colors due to the individual light refraction particularly well validity. In line with the trend, Mosafil offers a very large variety of decoration options such as example borders, square and round glass mosaics and wall tiles. Plain colors, as well glossy or matt glass mosaic ennoble every room. Times recycled, tumbled, matt, glossy or with structure provided - our glass mosaics are just beautiful!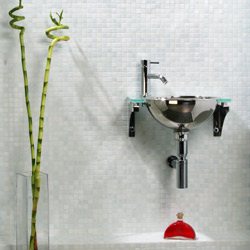 Glass mosaics offer a wide variety of design options.
Suitable for cleaning due to the surface quality only neutral detergent without the addition of acids, oils or wax should be used. Avoid sharp-edged, coarse, pointed and hard ones cleaning items such as sponges, scrubbers or brush. Because the glass surface is otherwise sustainable is damaged or becomes dull.
Glass mosaic - probably the most individual and oldest skill!
Glass mosaic or mosaic in general, one already understands one in antiquity known genre of painting technique. By the joining and combining differently shaped or different colored components (usually stone or glass pieces but also paper and various fabrics) regular patterns or pictures are created. They have certainly the motley and huge big ones church festival in your home town admired (?) Because these windows are a prime example of skilful glass mosaic . Here a variety of colored Pieces of glass or tiles used after a certain scheme from the respective artist to the impressive images can be put together.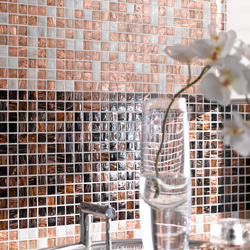 Bathroom embellishment with decor wall tiles
The making of glass mosaic may well be the first purely artistic human activity. So far oldest, proven mosaic area comes from homo erectus, which seems to be alien stones and bones in the hollow of a circular square, the one diameter of approx. 9m must have pressed in. The discovery of this paved area is about 400,000 years old dated back. In the years 2500 to 3000 BC were first building with glass mosaic made of tiles decorated. This was particularly true in ancient Greece glass mosaic was very popular and was especially for the beautification of floors, walls, ceilings and of course windows used in important buildings. Also the pharaohs of early Egypt knew that to appreciate colorful tiled patterns. It did glass mosaic not used in the same way by the Egyptians like the Greeks, but they also succeeded, many decorate palaces and pyramids with the colorful tiles. in the In ancient Egypt, the glass mosaic was often found on everyday objects such as vases, tables, furniture and especially plates. In the years 100 to 300 A.D. was the glass mosaic in the revolutionized the Roman Empire. After the Romans the art of tile laying with the Greeks copied, they started to this day to create greatest works of art from glass mosaic and to lay the most complex patterns out of the tiles. It was them too Romans who make up a large part of our churches, domes, cathedrals and other magnificent buildings, and as a result also responsible for the windows decorated with glass mosaic are.

Even today, the colorful tiles can still be used so make artists fascinating. Charles Crodel, Konrad Honold, Helmuth Uhrig, Peter Recker, and Antoni Gaudí e.g. to bring you just a few of the great mosaic artists to present to our present. Are those tiles made by these Artists were combined into unique patterns probably priceless, so there is for today Everyone glass mosaic in the specialty store available for moderate prices. Wall made of tiles or floor cladding, as is often the case when lining bathrooms find the most common use applications of the mosaic today. Most of them very much small tiles are compounded areas though industrially manufactured and therefore do not have the same Individuality as a handcrafted glass mosaic on, however, they are also able to make a room particularly comfortable and to look noble. Often you can also see parks or Castle gardens which are laid out in a certain pattern, so that one could also speak of a mosaic here.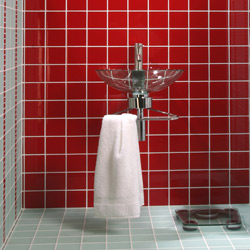 You will certainly already have it heard that such a
glass mosaic
too easily design and customize. Everything you need for it, the individual tiles, a suitable surface, the necessary glue and other They can be obtained either in specialty shops that specialize in glass mosaic specialize on the Internet or with something luck also in a craft store near you. One is particularly important for your own glass mosaic large selection of tiles to suit your needs Let creativity run wild. On the Internet or you can get the tiles from a suitable specialist shop in different sizes, all imaginable Colors and, as desired, with a rough or smooth surface. After you have found the right tiles, make the selection the right type of mounting a question. You can the tiles with mortar, silicone, two-component adhesives, fix tile adhesive and in many other ways. The kind of fastening your tiles depends on the surface and the desired strength of your
glass mosaic
. It is recommended to consult a specialist in this regard consult or obtain further information on the Internet. After this you are now informed about all steps and all having materials together means nothing to your creativity more in the way. You can now choose the colored ones to your heart's content Combine tiles into complex patterns or design a graphic, depending on the selected colors, timelessly elegant, religiously cultural, or noble and graceful. Even the object, the room, the wall or whatever you want want to decorate can be freely chosen by you. Because of its variety of colors and the fact that a glass mosaic can be customized, it is suitable for numerous applications, for example for handicrafts, as border or for the design of entire bathrooms.
If you like to puzzle, the glass mosaic could soon are one of your main hobbies. It is after all almost the same.