Create stylish wall designs with wood-look mosaic tiles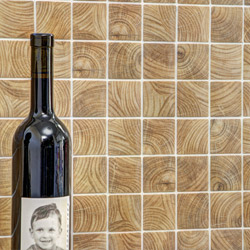 Wooden wall cladding makes it cozy warmth and a special, natural and charming indoor climate. However, real wood is not suitable in all areas, so you with an orientation on wall tiles in wood look can work more individually. In bathrooms and kitchens, in the entrance areas or living areas, on the terrace and on your facade you provide a wood-look mosaic. But not only on the wall, but also on the floor are eye-catching mosaic tiles in wood design and create one pleasant living feeling.
Real wood is more maintenance-intensive and must be on the surface be treated. If you want easy-care, easy-to-use and want non-deformable wall coverings mosaic tiles in wood look a good decision. The floor or at first glance, wall tiles are not made of real wood distinguish, so that the desired charm creates and the cozy warmth is created by the wood look. In combined with stone look tiles you can create mosaic tiles in wood design as a style-breaking but very harmonious contrast option use. The wood optic mosaic has the grain and optical characteristics of different woods, while it is characterized by its manufacture in texture porcelain stoneware or natural stone is particularly flexible and high is resilient. You will find joint-free and jointed ones wall tiles made from small mosaic stones in a wood design are.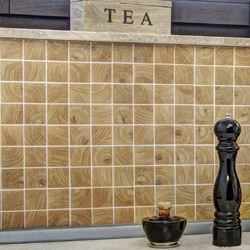 Wood-look mosaic tiles can be your favorite wood empathize with acacia, teak or a local wood recall. Care in damp rooms and outdoors through wall tiles or wood-look floor tiles for sustainability and best properties through which the mosaic tiles defy wind and weather, wetness and heavy use. Even after many years, a wood-look mosaic is just as attractive and appealing as it was at the time of purchase and relocation case was. Here you will find a wide selection for wood look mosaic tiles that you can combine with each other or as process mosaic tiles between the classic wall tiles can. Pay attention to one with tiles in wood look identical height to the tile mirror so that you have a create a uniform and easy-care surface.