Set accents: Attention to detail in the polygonal mosaic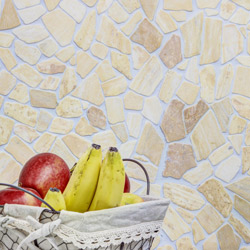 Polygonal mosaic tiles are primarily used in the bathroom, preferably in a walk-in shower. Also for interruption of a wall tile mirror, the little ones are optically on glass stones reminding mosaic tiles ideal. Choose between different designs and colors, different shapes and very individual designs. Polygonal mosaic tiles are on plate, individually, as strips in a set and plain colors or as a color mix available. You can add one to your bathroom give a touch of detail when you use these small wall tiles set accents from polygonal and create an eye catcher.
The polygonal mosaic for creative people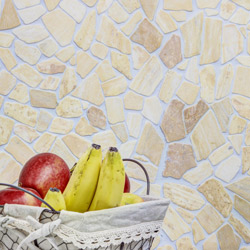 There are hardly any limits to the processing of polygonal mosaic tiles. Would you like bigger cover surfaces with these stones, choose panels with angular, oval or individual pasted on net shaped stones. Should the polygon interrupt the wall tiles and as a decorative strip, you can use the polygonal buy the mosaic in a pre-made strip shape and on one use an infinite portfolio of colors. Puzzle like and want to make a small work of art out of your bathroom, you can create individual ornaments with a polygonal mosaic design, create your own patterns and entire murals make different colored soft glass stones. The light and with mosaic tiles with smooth underside are made in the same way processed like wall tiles. So that no moisture in the wall penetrates and makes its way through the joints, lay special emphasis on expert grouting.
A highlight for your walk in shower

Due to their waterproof properties, polygonal mosaic tiles ideal for wet areas. Whether in blue or red, in natural stone tones or with glitter, you can have yours let your imagination run wild and the walls of the shower as design a work of art. For faster processing use mosaic tiles pre-glued on a mesh and not be placed individually on the wall. The material is polygonal developed and developed especially for wet rooms therefore established in the area of wall tiles in bathrooms. Sit down with a polygonal mosaic new trends or loosen yours tile mirror with individual polygonal stones.