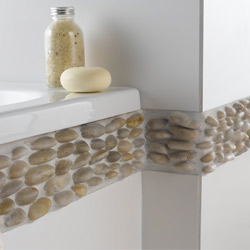 The main topic for sedimentary rock is often colloquially called pebble. The pebbles include opal, quartz and chalcedony, which are all rich in SiO2. They arise during diagenesis through secondary education of the concretions or pebbly organism shells, which in one secondary accumulation occur. Both types occur as tubers or finely divided in the matrix of the silicified Sedimentary rock. A related species is pebble lime, Pebble sandstone, pebble slate, pebble marl or kieseloolite. Applications for rounded river pebbles: Decoration around the house, as a border for flower beds or Trees, house borders, garden and walkways, flooring for Japanese gardens, grave decoration, decoration for flower pots, watercourses, garden ponds, Biotope systems, garden design or as filling material for stone baskets. River pebbles are also used in the Tile laying used and form interesting there Pattern options.


Mosaic made of river pebbles
In addition to the glass shapes of the river pebbles, there is also the Possibility of laying the ceramic pebbles in Shape of a pebble mosaic. So this visually appealing material is either made of natural stones or artificial made and is set in tile mosaics. Laying such Tiles differ from the usual geometric patterns considerably and thus creates a special eye-catcher. Especially Laying tiles from river pebbles is popular Wellness area. Likewise, with a smaller version rounded shapes in almost all areas of living spaces or in Outdoor area to be disguised. Originally, this species of the flooring used in the Mediterranean. From there sat down the processing of river pebbles in Germany. With a River pebble flooring helps you achieve a natural design an additional slip resistance in the shower tray area or in front of the bathtub.


Range of river pebbles
River pebbles are particularly as follows offered: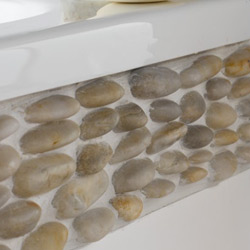 River pebbles made of natural stone in Mosaic shape - in the original rounded shape - as a miniature tile (better Running properties through narrow joints) or in normal Size - large, glued on net Color selection
- River pebbles made of glass - large selection of colors glued on a net - are laid as glass-pebble mosaic
- River pebbles or natural stone pebbles as pebble mosaic - flat ground - also glued to a net - improved running properties as well as simplified cleaning
- polished, loose river pebbles as natural stone pebbles - become by hand Pebble mosaic laid
- Ceramic pebble mosaic - from bright color combinations to to natural tones - combination of different Sizes - Laying as river pebble tile mosaic.





River pebble flooring
In addition to the important slip resistance of the floor covering exude the river pebbles that are glued in tiles on mesh in different formats are available, a special one Mediterranean charm in the wellness area. The river pebble tiles are laid and grouted in the same way as conventional tiles. In addition, the river pebbles next to the Flooring can also be tiled on the wall as a decoration. So create besides the soothing foot massage as well as the Safe running the feel-good atmosphere of a Spanish finca. If River pebbles as natural stone in soft colors or as luminous play of colors is up to your taste.