Do you need new floor tiles?
Then you've come to the right place. Here you will find a large selection of tiles and porcelain stoneware. Take a look around and only decide when you have seen everything.

Tiles for the bathroom
It is currently fashionable for porcelain stoneware floor tiles in bathrooms to have dark floors and sometimes dark walls. Brown tones or black have the advantage that light soiling is often not visible. In the case of white tiles and porcelain stoneware floor tiles, optically they have to be cleaned significantly more often so that it is clean and looks. But also iridescent tiles and floor tiles made of porcelain stoneware have a pleasant look. For example in the colors blue, green or brown; as the colors blur here, the tiles and the look of the room are pleasantly relaxed.
Tiles in the kitchen and hallway
Floor tiles made of porcelain stoneware in the kitchen and hallway should be chosen so that they are at least slightly roughened to prevent slipping on slightly damp floors. In terms of colors, we recommend a color tone for porcelain stoneware floor tiles that does not directly reveal slight soiling. Maybe you like red, brown or orange? The porcelain stoneware floor tiles have many different patterns or color gradients that can wonderfully distract from damp footprints.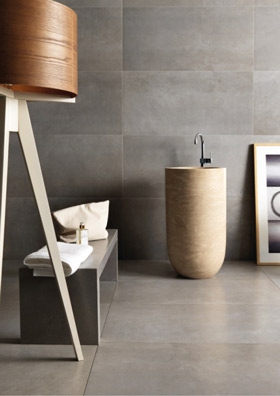 Of course, tiles in matching colors can also be laid on the wall, for example up to half the wall. If the floor tiles made of porcelain stoneware in the hallway and kitchen are chosen in the same colors, the surfaces appear more spacious in most cases. If you are unsure whether the porcelain stoneware tiles or floor tiles will match the wallpaper or furnishings, get a sample and hold it where you can see exactly if the color is right for you.
Attention cleaning
Make sure that your porcelain stoneware tiles and floor tiles are not treated with acidic cleaning agents. These could attack and destroy the porcelain stoneware tiles and floor tiles. Only use cleaning agents that are clearly available for tiles and floor tiles made of porcelain stoneware. Simply read the information on the detergent label.
Floor tiles create a beautiful ambience with their design.
Our high-quality tiles for the floor are easy to clean. In addition, the floor tiles are frost-proof and have low abrasion. As a floor covering in the bathroom, kitchen or living room, our floor tiles are ideal in different variants such as glazed, unglazed, polished or as tiles with a wood look. At Mosafil you can also order sample tiles, which we will be happy to send you by post. So you can examine floor tiles on site in your own rooms and with the existing lighting conditions.
Surefootedness
Our floor tiles for the commercial sector have special surface structures, for example glazed floor tiles with a roughened surface for secure adhesion or unglazed floor tiles with slightly profiled surfaces. It is important to ensure that the floor tiles are sure-footed, which corresponds exactly to the regulations of employers' liability insurance associations or EU directives. So it is no wonder that trained master craftsmen almost exclusively lay floor tiles. As a private user, in principle everyone can integrate floor tiles into their own four walls. However, there is a great risk here of using floor tiles from an optical perspective instead of paying attention to slip resistance and surefootedness.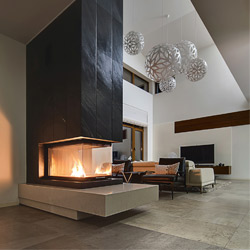 That is why we strongly advise against using classic wall tiles for the hallway or the bathroom floor as floor tiles. The danger of slipping is simply too great here!
Slip resistance
For do-it-yourselfers, we recommend laying floor tiles according to the assessment groups prescribed for the commercial sector for bathrooms, basements, swimming pools or gardens. There are three rating groups for floor tiles for wet areas. Pretty much all floor tiles on the German market have been tested for slip resistance. For example, changing rooms or sauna areas with only very little moisture are assigned to assessment group A. Assessment group B is intended for floor tiles for largely damp barefoot walks and swimming pools. All water-bearing floor tiles such as water stairs belong to evaluation group C.